Figures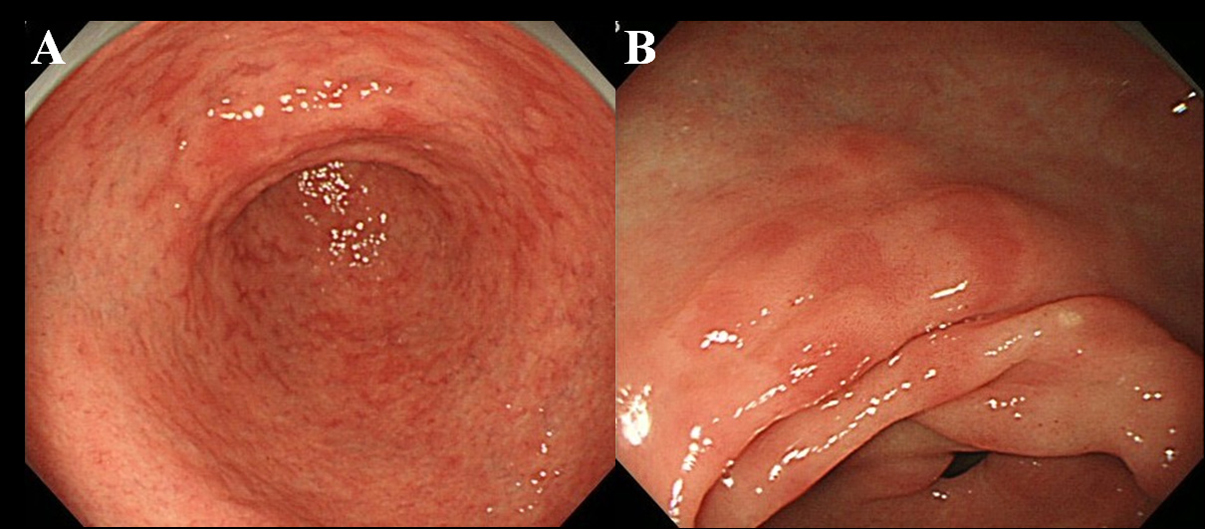 Figure 1. Endoscopic finding of MPE. (A) Multiple and flat erythema in the antrum; (B) Flat and depressed erythema in the lesser curvature of the antrum.
Figure 2. Biopsy site. (★) Biopsy site of MPE; (•) Biopsy site of non-MPE. Non-MPE site was defined as an adjacent mucosa located within 3 cm of MPE site.
Figure 3. Evaluation for intestinal metaplasia using immunohistochemical staining (complete type case). (A) Hematoxylin and eosin stain; (B) MUC2 stain; (C) MUC5AC stain; (D) MUC6 stain; (E) CD10 stain; (F) CDX2 stain.
Tables
Table 1. Demographic Characteristics of Patients (n = 102)


| | MPE + (n = 55) | MPE - (n = 47) | P value |
| --- | --- | --- | --- |
| Mean age ± SD (years) | 66.1 (14.0) | 62.1 (14.4) | 0.080 |
| Male sex | 33 (60.0%) | 22 (46.8%) | 0.183 |
| Period after eradication ± SD (months) | 27.8 (23.8) | 23.4 (13.7) | 0.134 |
| Endoscopic gastric atrophy (moderate to severe) | 36 (65.5%) | 21 (45%) | 0.035 |
Table 2. Comparison of IM Score Between MPE and Non-MPE Site (n = 55)


| IM score | MPE site (n = 55) | Non-MPE site (n = 55) | P value |
| --- | --- | --- | --- |
| 0 | 7 (13%) | 37 (67%) | |
| 1 | 15 (27%) | 9 (16%) | |
| 2 | 16 (29%) | 5 (9%) | |
| 3 | 17 (31%) | 4 (7%) | < 0.001 |
Table 3. Phenotypes and Subtypes of Intestinal Metaplasia


| | MPE site (n = 48) | Non-MPE site (n = 18) | P value |
| --- | --- | --- | --- |
| Phenotypes | | | |
|   MUC2 positive | 48 (100%) | 18 (100%) | |
|   MUC5AC positive | 28 (58.3%) | 9 (50.0%) | 0.587 |
|   MUC6 positive | 11 (22.9%) | 6 (33.3%) | 0.528 |
|   CD10 positive | 36 (75.0%) | 14 (77.8%) | 1.000 |
|   CDX2 positive | 41 (85.4%) | 15 (83.3%) | 1.000 |
| Subtypes | | | |
|   Incomplete/Complete | 18/30 | 8/10 | 0.778 |